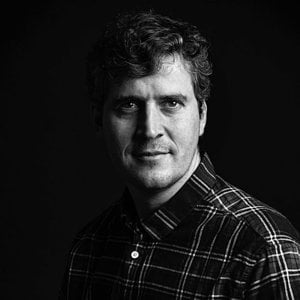 Miguel Cabezas
---
Biography
First of all, thank you very much for visiting the gallery, and welcome to the world as Miguel Cabezas sees it through his viewfinder.
Miguel is currently a member of AFI (Irunesa Photographic Association), CEF (Spanish Confederation of Photography), and FIAP (International Federation of Photographic Art).
"I like to photograph especially the coastal landscape, but I am also really interested in trying to photograph everything around me, as I am also passionate about street and urban photography, architecture, and creative etc.…"
Miguel's goal is to make photographs that portray the ordinary in an unusual and unique way. To accomplish this, he employs a variety of techniques – both in and out of camera (long exposure, filters and software).
Please do not hesitate to contact us with any comments, suggestions or criticism.
If you are interested in any images please contact the author.
Thank you for visiting!
En primer lugar, muchas gracias por visitar la galeria y bienvenido al mundo como lo vé Miguel Cabezas a través de su visor!
Miguel, en la actualidad es miembro de la AFI (Asociación Fotografica Irunesa) de la CEF (Confederación Española de Fotografía) y de la FIAP (Federation International del arte Fotográfico)
Le gusta fotografiar especialmente el paisaje de costa, pero en realidad intenta fotografiar todo lo interesante que le rodea ya que también siente una gran pasión por la fotografia de la calle y la ciudad, arquitecture, creativa etc.
Su objetivo es hacer fotografias que retraten lo ordinario,para convertirlo en extraordinario y para ello,trata de utilizar la variedad dentro y fuera de las técnicas de la cámara (sobre todo con larga exposición,filtros y software) esperando que con sus esfuerzos las imagenes resulten impactantes.
Realmente desea que les guste contemplar sus imágenes. Por favor, no dude en ponerse en contacto con cualquier comentario, sugerencia o crítica.
Si te interesa alguna imagen no dudes en ponerte en contacto con el autor.
Saludos y gracias por prestar atención.
PREMIOS Y DISTINCIONES / AWARDS AND DISTINCIONS:
Mejor foto del mes en la revista Digital Camera tema "La Navidad" 2011

Mejor retrato del año de la Revista "Super Foto Digital" 2011 - Best portrait of the Year 2011 "Digital Magazine Super Photo"

Ganador de la XXVI edición del "Concurso Fotográfico Popular de Irún"

Ganador del XXVIII "Rally Fotográfico Baztán-Bidasoa" (Salmón de oro)

Finalista del XX "Concurso Nacional de Fotografia Huétor Vega"

Finalista y mención especial del II Concurso Nacional de la "Fundación Patrimonio Histórico de Castilla y León"

Finalista en el Consurso "Dia de Extremadura"

Finalista en la XXI edición del "Salon Nacional de Fotografía Ciudad de Calatayud"

1º en el IX "Concurso Ciudad y Comercio de MUGAN" - 1st in the IX "Competition and Commerce City MUGAN"

3º en la sección "autores vascos" en el "XXV Certamen de Fotografía Indalecio Ojanguren"

1º en el I "Concurso Paraninfo de Fotografía" - 1st in the I "Photography Competition Paraninfo"

Finalista en el prestigioso concurso THE OPEN OF PHOTOGRAPHY 2012

1º en el apartado local del "XXIII Concurso Nacional "Ciudad de Irún" -1st in the Local section of the "XXIII National Competition" Ciudad de Irun "

1º en el XVI "Certamen Nacional de Fotografía de Leioa" en la categoria B/N - 1st in the XVI "National Photography Contest Leioa" in the category B / W.

1º en el VIII "Certamen Nacional de Fotografía Derio" a la mejor colección - 1st in the VIII "Derio National Photography Competition" for best collection.

Accésit a la mejor fotografía del salón en el "XXXI Premio Nacional de Fotografia Vila de Canals" - Second prize for best photography in the classroom "XXI National Photography Prize Vila de Canals"

Khayyam Bronze Medal " KHAYYAM INTERNATIONAL EXHIBITION OF PHOTOGRAPHY OF IRAN "

Premio a la mejor colección en el " XVIII Certamen Nacional FotoPetrer" - -Award for the best collection in the " XVIII National Contest Photo Petrer"

Gaudi trophy for the best classified section on the urban landscape - Trofeo Gaudi al mejor autor en la sección paisaje urbano en el "Salón Internacional GaudiRfoto"

Accésit en el "Certamen Nacional CANSON INFINITY 2013" - Second prize in the "National Contest 2013 CANSON INFINITY"

Accésit en el "Trofeo Argizaiola"
-1º en el "XIX Concurso Nacional de Fotografía Mercoequip" a la mejor colección - 1st in the "XIX National Photography Competition Mercoequip" for best collection.
Cinta azul FIAP / Blue ribbon FIAP in "The 2nd JIPF International Photographic Exhibition of Japan"

Medalla de plata FIAP / Silver medal FIAP in "The 2nd JIPF International Photographic Exhibition of Japan"

Medal FIAP Honour to the best classified (Gold medal) XXVI CERTAMEN FOTOGRÁFICO INTERNACIONAL 'El trabajo y los oficios'

1º en el VI Concurso Fotográfico "El árbol: obra de arte de la Naturaleza" - 1st in the VI Photo Contest "The Tree: artwork of Nature"

FSS Gold Medal 1st International Salon Photography of Serbia "KULA"

Mention d´honneur FIAP 12e Salon International Photographique de Wervicq-Sud FRANCE

Prize for the best set "Kam Hoi Trophy" in the monochrome section "The 17th Macao International Salon of Photography" CHINA

3º en el Concurso Fotográfico de las fiestas patronales de Hondarribia

Diploma "Le Catalan" section of monochrome in the "2ème Salon International Photographique Le Catalan" SPAIN

Special Prize chairman "PERSPECTIVE ONE" International Salon of Fine Art Photography - INDIA

Salon bronce medal and honorable mention in the 1st International Salon of Photography "MNE - OPEN" MONTENEGRO

Silver bronce medal FIAP in the prestigious International Photo Confrontations "Just one photo" POLAND

Segundo premio en el Concunso Nacional 'CASTILLOS, PALACIOS Y FORTALEZAS DE ESPAÑA'

5th. Finland International Digital Circuit, Photograph Exhibitions:

5th Vision Salon Best Creative Image Monochrome PSA FINLAND
4th Imagination FIAP Silver Monochrome FINLAND

1st Hyvinkää Salon Best Creative Image Monochrome PSA FINLAND

PSA HM Ribbon in CIPAE - Cairo International Photographic Art Exhibition of Egypt

FIAP Ribbon in TPS - Tallaght International Salon of Photographic ART of IRELAND

3º en el XIX Concurso Nacional de Fotografía "Retrátame a un lector" SPAIN

Medalla de Oro CEF y medalla de Plata FIAP (CEF Gold Medal FIAP Silver Medal) en el 89° Salon Internacional de Otoño en Zaragoza - SPAIN

PSA Honorable Mention in the 1st Olympic Photographic Circuit - Salon Apollo - GREECE

Perlensis Ltd Special Award in the 4th ÁGENS DIGITAL PHOTO SALON of HUNGARY

PSA Honorable Mention in "THE OLYMPIC PHOTO CIRCUIT OF GRECIA"

Silver medal UPI and UPI Honorable Mention in "11e Salon international d'Art photographique de Pessac" FRANCE

PSA Honorable Mention in the "3rd VNUSPA International Digital Salon" USA

Two FIAP Honorables Mentions in "13th International DVF Digital Imaging Competition" GERMANY

Premio de honor a la mejor colección en el XXXVI "Palencia Imagen 2013" - Award honoring the best collection in the XXXVI "Palencia Image" - Distinción ACEF (Artista de la Confederación Española de Fotografía 2013)

Honorable mention in the International Open of New York Center For Photographic Art (NYC4PA) "Black & White 2013" USA
-Medalla de Oro CEF, Medalla de Plaa CEF y Mención de Honor FIAP en el International Photographic Exhibition of Villajoyosa 2013 ESPAÑA
5º puesto en la categoría paisaje del Michael The Maven's 2013 International Photography Contest / 5th Place Winner in the Landscape category of Michael The Maven's 2013 International Photography Contest

Medalla de Plata FIAP y Medalla de Bronce FIAP en el 2st International Circuit "8 de March Photography" Montevarchi 2014 ITALIA

Dos menciones de honor FIAP en el XXXVIII Trofeo Torretes de Fotografia 2014 / Two FIAP Ribbons at the XXXVIII Trofeo Torretes of Photography 2014 SPAIN

Mención de honor PSA en el 1er Trofeo Internacional de Fotografía AFES / Honorable Mention PSA at the 1st International Trophy AFES Photography 2014 SPAIN

3º premio en el XXI Concurso Nacional de Fotografía L´art de la Llum 2014 SPAIN

FIAP Bronze Medal at the International Salon Of Fine Art Photography "Equinox one" 2014 INDIA

Mención de honor FIAP en el V Concurso Internacional de Fotografía AF Sant Just 2014 SPAIN

Primer premio en el 65 Salón Estatal Petxina d'Argent - St. Adrià del Besòs CATALUNYA

2º Premio en el concurso nacional "Ciudad de Benavente" 2014

Medalla de plata CEF en el I Salón Internacional de Xátiva / Bronze medal in I XATIVA'S INTERNATIONAL PHOTOGRAPHY CONTEST 2014(SPAIN)

Medalla de Oro PSA en el 3rd JIPF International Photographic Exhibition 2014 (JAPAN) PSA Gold Medal

Medalla de Oro PSA y una FIAP ribbon en el III International Photographic Salon LE CATALAN2014 (FRANCE) Gold Medal PSA and FIAP ribbon

PSA GOLD- CEF GOLD- COP DE COR and PSA ribbon en el XVI Certamen fotográfico Internacional Mallorca 2014

FIAP ribbon en el IX Salon Internacional de fotografía Digital Illes Balears 2014

FIAP Ribbon en el II Salon Fotografic Digital "Illa de Menorca" 2014

Honorable mentio in the International Open Call for Entry "NEW CREATITIVITY" of New York Center For Photographic Art (USA) 2014

Adquisición de la obra "El lago" para el fondo privado de arte contemporáneo de la Fundación Vila Casas año 2014/ Acquisition of the work "The Lake" for the private collection of contemporary art of the Vila Casas Foundation 2014
-Premio Nacional en el XXXII Certamen Nacional "Villa Cabeza de Buey" 2014
Premio Fundación Internacional de las Artes FIART en el 81 Salón de Otoño organizado por la Asociación Española de Pintores y Escultores 2014

2º premio el el apartado tema Irún de XXV Concurso Nacional "Ciudad de Irun" 2014

Accesit en el IX Concurso Nacional "Gijón está de foto" 2014

Primer Premio en el Concurso "semana Santa de Hondarribia" 2014

PRIMER PREMIO MEJOR COLECCION en el XXXV CONCURSO FOTOGRÁFICO VILA D'IBI 2014

Acesit en el Concurso Nacional "Villa de Moriles" 2014

Segundo premio en el prestigioso Monochrome Awards 2014 en la categoría FINE ART - Second prize in the prestigious Monochrome Awards 2014 in the category FINE ART

6 Menciones de honor en los ND Awards Contest 2014 - 6 Honorable Mentions in ND Awards Contest 2014

Primer Premio en la categoria FINE ART y mención de honor en la categoria CREATIVE en los Stark Awards 2014 - First Prize in the category FINE ART and honorable mention in the category CREATIVE in Stark Awards 2014

Medalla de bronce en el Khayyam International of Photography de Iran 2014 - Bronze Medal at the International Khayyam Iran of Photography 2014

3 Honorable Mentions International Photography Awards IPS 2014

3º premio en el 45 Concurso Nacional "Villa de Súria 2015"

2º Premio "Igartza Saria" 2015 de Beasain

2 medallas de plata CEF en el II XATIVA'S INTERNATIONAL PHOTOGRAPHY CONTEST 2015

Primer premio en el Concurso Nacional "villa de Moriles" 2015

Mención de honor en 2nd. BALEARIC ISLANDS DIGITAL PHOTO CIRCUIT 2015

Primer premio del XXVII Certamen de Fotografía Ramón y Cajal de Zaragoza 2015

1st Stark Awards prizes in category "MINIMAL" Primer premio en los Starks Awards en la sección "MINIMALISTA" 2015

HM Stark Awards 2015 in category "SURREAL OR CREATIVE" HM Stark Awards en la sección "SURREALISMO"

PSA Mención de honor I CONCURS INTERNACIONAL DE FOTOGRAFIA AFOSANTS BCN 2015

Medalla de Oro FCF en el 91 Salón Internacional de otoño en Zaragoza 2015

Medalla de plata FIAP en el I Salón Internacional 59 aniversario afG de Gualadajara

Medalla de Bronce CEF en el XXVIII Certamen Fotográfico Internacional UGT

7 menciones de honor en los Monochrome Awards 2015 - 7 honorable mentions in Monochrome Awards 2015

FIAP Silvered Medal + SFG Golden Medal +Trofeo Marqués de Roca Verde en el XLIII TROFEO GIPUZKOA INTERNACIONAL 2015

Primer premio Concurso Photomascota de Blipoint 2016

PSA Honourable mention in the 10th Holland International Image Circuit 2016 HOLLAND

FIAP Honourable mention in the VII International Photography Contest AFSantJust SPAIN

FIAP Honourable mention in the International Biennial Exhibition of Art Photography CHILD UNICEF POLONIA

Mención de honor FIAP en el XXXVIII CONCURSO DE FOTOGRAFIA VILA D´ALMENARA - II SALON INTERNACIONAL DIGITAL 2016

GPU RIBBON en el XVIII CERTAMEN FOTOGRÁFICO INTERNACIONAL MALLORCA 2016

First prize in the category Fine ART - Landscape in the prestigious Moscouw International Photo Award (MIFA)

Primer Premio Igartza Saria 2016

Segundo Premio en el Concurso Nacional Tolosa Herria 2016

Primer premio EISA Maestro Photo 2016 (Nacional) Representando a España en el concurso internacional - First prize EISA Maestro Photo 2016 (National) Representing Spain in the international competition

Primer premio EISA Maestro Photo 2016 (Internacional) recogiendo dicho premio en un gran evento en Berlín - First prize EISA Maestro Photo 2016 (International) collecting this prize at a big event in Berlin

Tercer premio en la X Bienal de fotografía Premio ciutat de Montcada i Reixac 2016 - The X Biennial of Photography Prize ciutat de Montcada i Reixac 2016

Medalla de bronce FIAP en el 10th International Photography Competition "Religions In The World" 2016 - FIAP Bronze Medal at the 10th International Photography Competition "Religions In The World" 2016

Mención de Honor PSA en el I CONCURSO INTERNACIONAL DE FOTOGRAFIA AFOSANTS BCN 2016 - PSA RIBBON in the 1st INTERNATIONAL PHOTOGRAPHY CONTEST AFOSANTS BCN 2016

PSA RIBBON in the Equinox Three - International Salon of Fine Art Photography 2016

Tercer premio y una nominación en los 11th Annual Black & White Spider Awards 2016 - Third Prize and a Nomination at the 11th Annual Black & White Spider Awards 2016

Primer premio en la XI edición del concurso de fotografía y discapacidad 2016 - First prize in the XI edition of the contest of photography and disability
-8 menciones de honor en los Monocrome Awards 2016 - 8 mentions of honor at the Monochrome Awards 2016
Mención de honor FIAP y mención de honor FLF en el III XATIVA´S INTERNATIONAL PHOTOGRAPHY CONTEST 2016
-Medalla AFI en el 66è Trofeu Pell Saló internacional de fotografia digital 2016
-Medalla de Oro CEF y Mención de honor FIAP en el XIX CERTAMEN FOTOGRÁFICO INTERNACIONAL MALLORCA 2017-CEF Gold Medal and Mention of Honor FIAP in the XIX INTERNATIONAL PHOTOGRAPHIC CONTEST MALLORCA 2017
-Diploma ISF en el V SALÓN FOTOGRÁFICO DIGITAL ILLA DE MENORCA 2017-ISF Diploma in the V DIGITAL PHOTOGRAPHIC LIVING ROOM ILLA DE MENORCA 2017
-Diploma Le Catalan 2017 en el VI Salon International Photographique "Le Catalan"2017
-Pin Azul al mejor autor del Salon VI Saló Internacional de Fotografia EUROPA 2017 .Medalla de oro CEF.Mencion de honor CEF. Diploma Europa 2017-Blue pin to the best author of Salon VI Saló International Photography EUROPA 2017. Gold medal CEF.Mencion honor CEF. Diploma in Europe 2017
Tercer premio y una nominación en los 12th Annual Black & White Spider Awards 2017 - Third Prize and a Nomination at the 12th Annual Black & White Spider Awards 2017
---
E X P O S I C I O N E S / E X H I B I T I O N S
El autor ha participado en numerosas exposiciones tanto a nivel nacional como internacional, destacando entre otras: The author has participated in numerous exhibitions both nationally and internationally, highlighting among others:
Khayyam Exhibition 2013 in 5 cities in IRÁN / Exposición Khayyam 2013 en 5 ciudades de IRAN

Exposición colectiva en la galería Rinek - Jaroslaw (Polonia) / Exhibition collective at the gallery Rinek - Jaroslaw (Poland)

Exposición colectiva internacional "Caceres de Foto 2013" EsSPAÑA/ International collective Exhibition "Caceres Photo 2013" SPAIN

Exposición colectiva internacional en el 2º JIPF de JAPÓN 2013 / The 2nd JIPF. International collective Photographic. Exhibition 2013 JAPAN

Exposición colectiva internacional "Photo-Emotion" en la galería Maxo de Barcelona 2013 / Exhibition International "Photo-Emotion" in the Gallery Maxo ,Barcelona (SPAIN)

Exposición individual de la colección "Solitudes" en la Casa de Cultura de Tafalla, Navarra 2014/ Exhibition collective"Solitudes" collection at the House Culture of Tafalla, Navarra 2014 SPAIN

Exposición de la colección "Solitudes" en la sala de exposiciones GIL MARRACO de Zaragoza 2014 /Exhibition "Solitudes" collection in the showroom GIL MARRACO Zaragoza SPAIN 2014

Exposición de la colección Solitudes en galeria Contraluz de Pamplona 2014 / Exhibition of the Solitudes collection in gallery Backlit Pamplona 2014

Collective Exhibition Qinghai International Photography Festival CHINA 2014

Exposición de la colección Solitudes en galeria ZAZPI de Zarautz 2014 / Exhibition of the Solitudes collection in gallery ZAZPI of Zarautz 2014

Exposición de la colección "Solitudes" en el Ambigú de Eibar 2014

Exposición de la colección "Solitudes" en el Festival FineArt de Igualada (Cataluña) - Exhibition of the "Solitudes" collection at the Fine Art Festival of Igualada (Catalonia) 2015

Exposición de la colección "Solitudes" en el Centro Cultural "La Misericordia" de Palma de Mallorca - - Exhibition of the "Solitudes" collection at the Cultural Center "Mercy" in Palma de Mallorca 2015

Exposición de la colección "Solitudes" en la galería IL MONDO de Barcelona 2015

Colective exhibition "Beyond the Lens" in Siena (Italy) 2015

Exposición colectiva e itinerante por las estaciones de metro de Bilbao "Miradas de prevención" de Mutualia 2016

Exposición SOLITUDES en el Festimage XI Festival de la Imagen de Calella 2016

Exposición SOLITUDES en el centro social de Villajoyosa (Alicante) 2016 - Exhibition "SOLITUDES" in the social center of Villajoyosa (Alicante) 2016

Exposición "SOLITUDES" en Villefrache de Conflent (FRANCIA) 2016 Exhibition "SOLITUDES"in Villefranche de Conflent (FRANCE) 2016

Exposición "Natura interior" en la galería IL MONDO de Barcelona 2017

Exposición colectiva "My World" organizada por la prestigiosa pagina web de fotografía BLIPOINT en el espacio cultural Madrid Matadero 2017-Collective exhibition "My World" organized by the prestigious photography web page BLIPOINT in the cultural space Madrid Matadero 2017
Contact